Map of the City
You will find a map of Aalborg that should provide you with an overview of where everything is situated in proportion to each other.
Map over the city of Aalborg, please visit Map of Aalborg city to see:
Hotels
Restaurants and cafés
Shopping streets
Tourist information – enjoy, drink and dine
During your stay, take the opportunity to explore the cultural vibe in Aalborg either by strolling down the newly established waterfront in the evening or exploring the inner city visiting its art museums and galleries. Please visit the official Tourist Bureau's website VisitAalborg to get more information on
Attractions
Activities
Restaurants
Events etc.
Shopping
With its abundance of shops Aalborg's high streets are an eldorado for anyone who loves to shop. But, whatever you do, don't miss the side streets. They are packed with exciting little shops selling the work of young designers and craftspeople. You never know what you'll find.
Opening hours
Mon-Thurs: 10AM-5.30PM
Fri: 10AM-7PM
Sat: 10AM-4PM
Sun: 11AM-3PM (only the 1st Sunday of the month)
Read more about shopping streets here or about Friis Shopping Centre. Friis Shopping Centre has longer opening hours than regular shops. Monday-Friday 10AM-7PM, Saturday 10Am-4PM, and 1st Sunday of the month 10AM-4PM.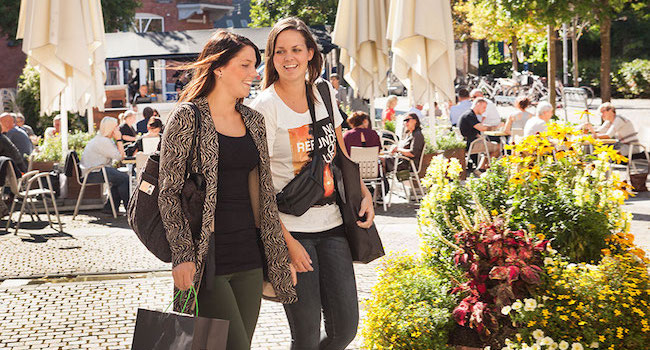 Beerwalk
Need a beer after a day with lots of impressions? An Aalborg Beerwalk makes an agreeable finish to a busy day and a perfect start to a fun afternoon or evening in Aalborg. Treat yourself to an Aalborg Beerwalk and taste 6 well-poured, special beers in as many as 6 great pubs in the centre of Aalborg. The Aalborg Beerwalk consists of: an Aalborg Beerwalk tasting glass, vouchers for 6 samples of excellent beer, a guide to 6 charming handpicked pubs in Aalborg, and a lot of fun. At each pub simply present a voucher and they will pour you a sample in your very own Aalborg Beerwalk tasting glass
Aalborg Beerwalk, please visit Aalborg Beerwalk to read more about the concept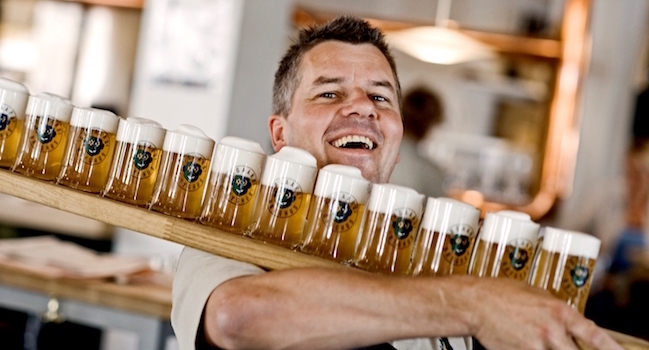 Soegaards Bryghus
Running
Even when staying in the city, beautiful oases of nature – perfect for a great work out – are never far away. A different experience awaits you, if you go for a run in Mølleparken during twilight. Here, you can follow a 2.5 km route lit up by lanterns.
Please ask your hotel for inspiration or look here for inspiration
Currency
Danish Kroner (DKK) is the currency in Denmark. Banks are open from 10.00AM-04.00PM Monday to Friday. Though, in most hotels, restaurants, cafés and shops international credit cards are widely accepted.
Tipping
Tipping: In Denmark, tipping isn't common - all service bills that you receive already include gratuity, and it is unnecessary (but always appreciated) to add a tip in Denmark
Weather
Aalborg is situated in the Northern Denmark. Weather in Denmark varies with the seasons. Denmark has a temperate climate and can be humid and overcast. The winters are usually mild and windy, and the summers can be cool or sunny. The weather in Denmark is a popular subject for discussion as it often changes from day to day and even during the day. It is therefore a good idea to bring a coat or an umbrella on outdoor activities. To check the weather forecast when you visit Aalborg, please visit the website of the Danish Meteorological Institute dmi.dk for the latest forecast
Electrical appliances
Electrical appliances run at 220v in Denmark. Electrical outlets in Denmark use a two-prong plug typical for continental Europe. Most laptops will automatically work with 220-230 volts (check the back of your laptop for power input markings.)
Smoking
The conference is a non-smoking event and smoking is prohibited inside the building throughout the venue. However, for those who want can walk outside for smoking.
Safe country
Generally speaking, Denmark is a very safe country and Aalborg is a particularly safe city. Like in most major cities in the world, however, it is advisable to watch ones belongings and valuables while being in public places and to keep cars locked.
Visa
If you need a visa to enter Denmark please contact the conference secretary as soon as possible to get an invitation letter to present to your local Danish Embassy. A processing time of up to 3 months should be expected! In order to get the invitation letter we need an official statement (stamped) from your employer/institution confirming that you are employed/enrolled accordingly. In the statement it must be stated that your employer/institution will cover all expenses in connection with your trip to Denmark.
Initially, you may fax the statement to us followed by a hard copy sent by normal post to:
[Coming later]
For more detailed information on obtaining short term visa for Denmark, please visit the website of the Danish Immigration Service nyidanmark.dk.
Emergency & medical care
In case of emergency please dial +45 112 to contact ambulance, police, or fire department. In case of serious illness or injury dial +45 112. Hotel staff can also direct you to hospitals or dental clinics. For non-emergency sickness the medical authorities recommend consulting a doctor instead of going to the hospital. Your hotel will be able to recommend you one.