Aalborg offers a wide range of accommodation facilities including options for students - 1,500 hotel rooms within comfortable walking distance of the CREATE building and public transport. Two hotels are very close to the CREATE building and there is a fine mix of international hotels and charming privately owned hotels.
Please note that we as local organizers have selected the most convenient and best hotels in advance for you to choose from. However, we ask each individual participant to organize their own booking regarding their accommodation.
Hotels
First Hotel Aalborg ***
First Hotel Aalborg is situated in the city centre, right on the waterfront with a beautiful view over the Limfjord. It is close to all the city's facilities and offers easy access to the waterfront which is turning into a very attractive district with a blend of green areas and world-class architecture. Staying at First Hotel Aalborg you are e.g. right next to the famous Utzon Center – enjoy a nice stroll and the fresh air after your meetings. All rooms have extra wide beds, TV, telephone and wireless internet. Sauna, table tennis, fitness centre and billiards are also available and there is a lift and handicap facilities.
First Hotel Aalborg
Rendsburggade 5
DK-9000 Aalborg
Distance to Conference venue CREATE building: 50 meters
Distance to the airport: 6 km
Single room: DKK 995 // EUR 135
Double room: DKK 1095 // EUR 148
For more information on the hotel, please visit: First Hotel Aalborg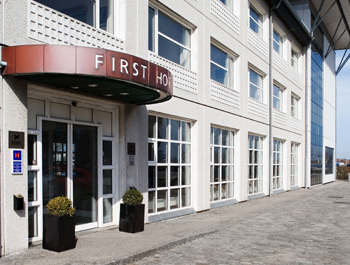 First Hotel Aalborg
Hotel CABINN Aalborg **
Since October 2009, CABINN has welcomed guests at this modern economy-class hotel in the heart of Aalborg. CABINN's next-door neighbor is Aalborg's new shopping centre Friis. The hotel has 239 rooms, all with private bath and toilet as well as phone, TV and a free wifi. Many of Aalborg's excellent restaurants are only a 15-minute walk from the hotel, and a 5-minute walk will take you to the scenic waterfront and the two spectacular cultural centers Utzon Center and Nordkraft.
CABINN Aalborg
Fjordgade 20
DK-9000 Aalborg
Distance to Conference venue CREATE building: 100 meters
Distance to the airport: 6 km
Single room: DKK 446-536 // EUR 60-73
Double room: DKK 775-835 // EUR 105-113
Please use the following discount code for a 10% discount: CLEA17
For more information on the hotel, please visit: CABINN AALBORG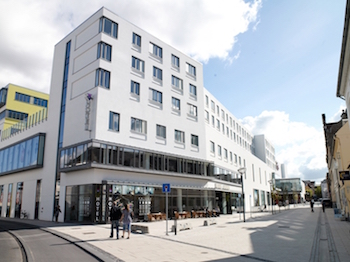 CABINN Aalborg